Matchmaker.com: Sign up now for a free trial. Date Smarter!
A HUMBLE DEDICATION
---
With the utmost affection and greatest respect, this page is dedicated to the memory of my late father - Dr. Divakar Prasad Vidyarthy. At the time of his death, on May 15, 1962, at the young age of 49 years, he was a Professor of English at the Patna University and Principal of the Bihar National College, which is a constituent college of the Patna University.
Although well-versed in the western culture, he never strayed from his deep-roots in the culture of Bihar. Son of a modest civil servant in British India ( a sub-inspector of police), he acquired the highest education old Bihar had to offer, a Master of Arts in English from the Patna University. Subsequently, he earned a Ph.D. in English from the University of London in England. While pursuing his studies, and teaching English at the University level, he also wrote extensively in Hindi -- poems, short stories, essays, literary criticism, translation of classic English literary pieces, etc.. During his stay in England (1946-49), he was a frequent broadcaster in the Hindi Service of the BBC. (Please click here for a relevant article of reminiscence.) Upon his return, he broadcast regularly - talks, panelist on discussion forums, literary criticism, etc. - in Hindi and English from the Patna station of All India Radio (AIR, now Akashvani). At the request of the Government of India, he translated several of Shakespeare's works into Hindi.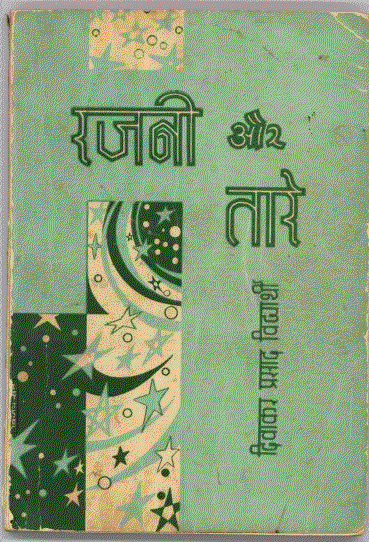 He lost his mother in childhood. (Please click here for a touching reference to this aspect of his life in one of his essays.) His father remarried twice. The second wife also had died shortly after the marriage. With the third wife his father sired eight living sons and four daughters. The death of his father occurred when he had just begun his career as a Lecturer in English, and had just become a father himself. Upon his father's death, he fulfilled the obligation of an eldest son by assuming the responsibility of the upbringing of all his brothers and sisters. Remarkably, my father achieved all of that on the meager income of a college teacher! Later in life, my father developed emphysema, which finally took away his life.
He did not let his many adversities and personal affliction affect his creativity and scholarship. By his personal qualities, he enjoyed the deepest respect and admiration of everyone he touched - his students, his colleagues, and other scholars and writers - in Bihar and beyond. Many of his students, in their turn, have distinguished themselves as teachers, scholars, and administrators. It is a joy and comfort to know that all of them, to this day, remember my father, with fondness and respect. (Here is a link to a recent article of reminiscences.) He certainly had his competitors - during his student days and in his professional career. But even they were not lacking in their respect and admiration for this honorable man.
Of his work in England, at the King's College of the London University, his supervisor, Professor Geoffrey Bullough, wrote that "in discussions with him I received more than I gave"! (The link points to a letter from Prof. Bullough that I had the good fortune of receiving in London on my way to the U.S.A.) Such was the command over the English language, and mastery of the English literature, of my father - born and raised in rural Bihar, son of a humble sub-inspector of police (later an inspector.) His creativity and loving nature remained unabated in spite of all his personal sufferings: motherless as a child, fatherless as a young man, confronted in his youth with the raising of twelve siblings, and patient of a harrowing disease in his middle age.
For these reasons, and many more, he will always be my hero, my idol!
---